Desktop database interface
Good database design has two major components, the back-end database and the front-end interface that is seen by the user.

While a web browser database interface is normally best, sometimes the best database solution for small business is a desktop application that can be installed either on a stand-alone computer or shared over a local area network in multi-user mode.
Desktop applications can be installed on the computer by just inserting the installation CD and following the prompts. Following are some examples of desktop applications developed either wholly by Eniware or in collaboration. All are multi-user with integrated multi-level security/authorities requiring the user to log in. All include comprehensive reporting and appropriate graphing. Most application include export facilities and a report writer for end-user custom reports.
Inventory Control
Sports Management
Quoting & Costing
Timekeeping
Automotive Point of Sale
Tele-Marketing
Inventory Control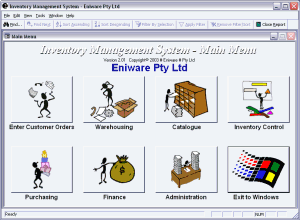 The foundation of any inventory system is the catalogue and a successful catalogue requires strong discipline. Eniware uses ECCMA principles in standardised item names and descriptive pattern questions and answers. This encourages the discipline without it becoming a chore. As an example, a lightbulb or lightglobe is a "Lamp, incandescent". A common unambiguous standard method of describing items is employed with the noun first followed by most significant adjectives. While it may not read like spoken English, it is logical and more importantly readily retrievable.

All the processes involved involved in the acquiring, storage and supply of goods is catered for along with the related financial accounting.
Sports Management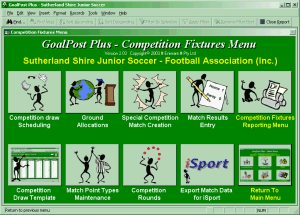 GoalPost is a sports management program that manages at club level, membership, teams, fees and finances.

GoalPost Plus is a complementary product to GoalPost that manages at association level, clubs, teams, grounds, competitions, fees and finances. It managed over 11,000 members and over 450 matches a week.
Quoting & Costing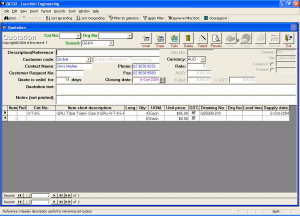 The Quoting & Costing program is for engineering firms and provides the following functions.
quote on work
convert successful quotes to jobs
track the cost of jobs
order material for specific jobs and generally
receive ordered materials
track sub-contacted jobs
dispatch the finished product
invoice the customer
Timekeeping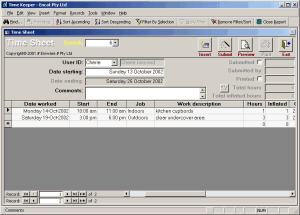 Timekeeper is a simple to use method of recording hours spent by employees at certain jobs. Not only does it record what the employee was doing but accumulates labour costs for jobs and/or projects. Penalty rates are automatically calculated based on administrator defined rules.
Automotive Point of Sale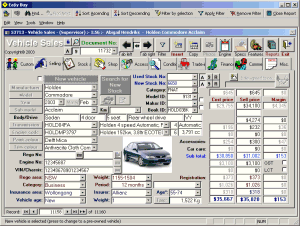 The Automotive Point of Sale program is a sales tracking system for Motor Vehicle Dealers. It records all sales activity from the customer walking in the door to the customer driving out in their new car. It allows salespersons to prepare accurate and professional quotes. It handles the tedious after-sales paperwork that salespeople hate. It avoids unnecessary duplication. It allows management to analyse performance.

The salesperson collects and records customer particulars, selects a selling vehicle either from stock or "builds" it on the screen, selects options and accessories, selects financing, enters trade-in details, and then prepares a quote. Much of the data is completed by the computer based on simple things like postcode but can be overridden if required. The image on the right is the tab page for the selling vehicle details as seen by the supervisor so that they can see the margin and approve the quote. In addition to quoting, the system handeles, financing, invoicing, stock control and marketing. This system is very detailed and comprehensive.
Tele-Marketing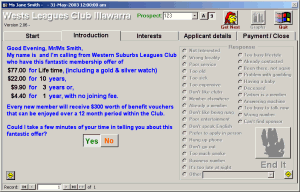 This is an example of one of many tele-marketing programs. The operator starts by clicking on a button to get the next prospect from a pre-defined list. The operator rings the number and if answered follows a script to encourage the prospect to buy. If the prospect buys then credit card payment can be taken and the order is passed on to dispatch. If the prospect is not interested then the reason can easily be recorded. If the prospect doesn't answer then the call can be rescheduled. All activity is recorded for analysis and reporting both for management and the client for whom the tele-marketing is being done.
While there are minor visual differences, the functionality of these desktop applications can be or has been reproduced with a web browser interface.